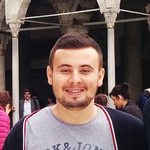 Talip Memis
l am an experienced printed textiles designer. His focus is on whimsical, trend season patterns and interesting color separations in order to create unique pieces that stimulate your inspiration and imagination. Website: http://www.talipmemis.com.tr/ Twitter: https://twitter.com/talipmemis Fallow me on instagram: @talipmemis Contact email: talipmemis@gmail.com Talip Memis joined Society6 on May 25, 2015
More
l am an experienced printed textiles designer. His focus is on whimsical, trend season patterns and interesting color separations in order to create unique pieces that stimulate your inspiration and imagination.
Website: http://www.talipmemis.com.tr/
Twitter: https://twitter.com/talipmemis
Fallow me on instagram: @talipmemis
Contact email: talipmemis@gmail.com
Talip Memis joined Society6 on May 25, 2015.