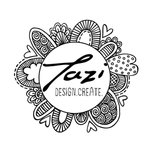 Tazi Art
I am a freelance graphic artist who loves colour, design, art, doodling, mixed media, and painting rocks. All artwork is original mixed media or vector illustration created by me! (Tazi Art). If you would like to share your purchase on Instagram or social media, please use the hashtag #taziart Tazi Art joined Society6 on April 2, 2017
More
I am a freelance graphic artist who loves colour, design, art, doodling, mixed media, and painting rocks.
All artwork is original mixed media or vector illustration created by me! (Tazi Art).
If you would like to share your purchase on Instagram or social media, please use the hashtag #taziart
Tazi Art joined Society6 on April 2, 2017.