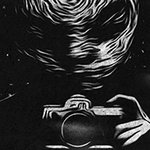 Tom Erik Douglas Smith
I was born in Harare, Zimbabwe in 1985 to a Norwegian mother and Zimbabwean father. I studied photography and art in England and Norway between 2003 and 2006, and in 2009 I started experimenting with stop-motion animation with influences such as Jiri Bara, Jan Svankmajer, and the Quay brothers to inspire my work. In 2012 I taught myself to draw and paint digitally and have been a digital artist and animator located in Oslo (Norway) since 2014. I work primarily on self-owned projects in addition to some freelance. Tom Erik Douglas Smith joined Society6 on October 23, 2013
More
I was born in Harare, Zimbabwe in 1985 to a Norwegian mother and Zimbabwean father.
I studied photography and art in England and Norway between 2003 and 2006, and in 2009 I started experimenting with stop-motion animation with influences such as Jiri Bara, Jan Svankmajer, and the Quay brothers to inspire my work.
In 2012 I taught myself to draw and paint digitally and have been a digital artist and animator located in Oslo (Norway) since 2014.
I work primarily on self-owned projects in addition to some freelance.
Tom Erik Douglas Smith joined Society6 on October 23, 2013.