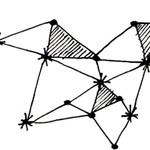 the tiny totem
Hello! We are Jason & Katey, two artists in love who have combined our individual talents and aesthetics (she: vintage modern + contemporary; he: rustic + natural) to create one-of-a-kind items to treasure and use. We call it The Tiny Totem. Visit us at thetinytotem.com :D As artists we cherish the time spent on crafting our products. Each piece is made completely by hand, including our fabrics which are hand printed in small batches using handmade block stamps and professional screen-printing inks. Heavily influenced by the Native American tradition, the planets, stars, myths, folklore, and classic modern design, our goal is to provide products as treasures that tell a story, hold a meaning, and offer a little charm to your everyday life. the tiny totem joined Society6 on December 8, 2013
More
Hello! We are Jason & Katey, two artists in love who have combined our individual talents and aesthetics (she: vintage modern + contemporary; he: rustic + natural) to create one-of-a-kind items to treasure and use. We call it The Tiny Totem. Visit us at thetinytotem.com :D
As artists we cherish the time spent on crafting our products. Each piece is made completely by hand, including our fabrics which are hand printed in small batches using handmade block stamps and professional screen-printing inks.
Heavily influenced by the Native American tradition, the planets, stars, myths, folklore, and classic modern design, our goal is to provide products as treasures that tell a story, hold a meaning, and offer a little charm to your everyday life.
the tiny totem joined Society6 on December 8, 2013.