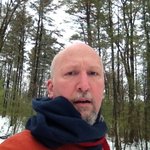 Tim St. Amour
Although I am a classically trained art school graduate, it is not this influence alone that shape my art today. The more I push my materials around in the studio, the more I find that I am coming full circleback to my childhood from the northern regions of Vermont.I didn't realize the connection until several summers past, when I came across a Dolly Gram. Then, it all came flooding back to me. I had helped my mother make them for Western Union when I was a pre-schooler. So you could say my life as an artist really started at my mother's apron strings. I was raised by a single Mom during the 60s, the youngest of five sons. We lived in poverty. Another influence from my childhood is my joy in searching for treasures. There really wasn't much to do in rural Vermont, so I spent hours excavating old abandoned home sites with close friends, and making new objects out of my finds. I left Vermont and went on to earn my Bachelor of Fine Arts degree from Portland School of Art in Maine. I spent the next 18 years in the corporate world supporting my family as a graphic designer and art director. I kept my interests in all art forms alive no matter what I was doing, whether it be corporate communications, creating jewelry, cabinetry, painting or drawing. Today I make paintings, funeral boxes, furniture, and accessories for home and garden using paint, wood, concrete castings and found objects. My craft is not about perfection, but rather follows in the vein of the Folk Art tradition. I still love exploring and finding less than perfect relics and treasures that give insight to the past. I am drawn to the characteristics of imperfection in rust, patina and time. It motivates and captivates me and, in turn, is evident in my work; finding the beauty in an imperfect surface and giving beauty and form to function. My daughter Madison loved to work with me in my studio just as I did with my Mom. Together we designed the "Maddy Angel" from one of her scribblings on my sketch pad. We combined our efforts, she giving it life in a sketch and I giving it life in wire and wood. For me it stands as a symbol of my are, the past, present and the future all rolled into one, whimsical, spiritual, steeped in the tradition of discovery. Tim St. Amour joined Society6 on November 11, 2014
More
Although I am a classically trained art school graduate, it is not this influence alone that shape my art today. The more I push my materials around in the studio, the more I find that I am coming full circleback to my childhood from the northern regions of Vermont.I didn't realize the connection until several summers past, when I came across a Dolly Gram. Then, it all came flooding back to me. I had helped my mother make them for Western Union when I was a pre-schooler. So you could say my life as an artist really started at my mother's apron strings. I was raised by a single Mom during the 60s, the youngest of five sons. We lived in poverty.
Another influence from my childhood is my joy in searching for treasures. There really wasn't much to do in rural Vermont, so I spent hours excavating old abandoned home sites with close friends, and making new objects out of my finds. I left Vermont and went on to earn my Bachelor of Fine Arts degree from Portland School of Art in Maine. I spent the next 18 years in the corporate world supporting my family as a graphic designer and art director. I kept my interests in all art forms alive no matter what I was doing, whether it be corporate communications, creating jewelry, cabinetry, painting or drawing.
Today I make paintings, funeral boxes, furniture, and accessories for home and garden using paint, wood, concrete castings and found objects. My craft is not about perfection, but rather follows in the vein of the Folk Art tradition. I still love exploring and finding less than perfect relics and treasures that give insight to the past. I am drawn to the characteristics of imperfection in rust, patina and time. It motivates and captivates me and, in turn, is evident in my work; finding the beauty in an imperfect surface and giving beauty and form to function.
My daughter Madison loved to work with me in my studio just as I did with my Mom. Together we designed the "Maddy Angel" from one of her scribblings on my sketch pad. We combined our efforts, she giving it life in a sketch and I giving it life in wire and wood. For me it stands as a symbol of my are, the past, present and the future all rolled into one, whimsical, spiritual, steeped in the tradition of discovery.
Tim St. Amour joined Society6 on November 11, 2014.
Tim St. Amour's Store
142 results
Filter