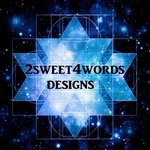 2sweet4words Designs
Lover of all things beautiful. I am always looking for the beauty in everyone and everything.
I take photos to capture moments in time and the essence of beauty in all. I make prints & designs to appeal to the masses but are unique enough to make a statement. I totally live with my heads in the clouds so I love working with & playing with space imagery & creative fantasy landscapes.
Most of the pieces sold in 2sweet4wordsDesigns are photographed, designed or reworked and/or enhanced by me, J. Smith.
My art, poems and photography have, in the past, been for my own pleasure. I feel so blessed to be able to share my happiness & joy with others.
Every piece is designed with a little love that I hope you'll feel when you receive your package.
I'm also a curator. I love to find and promote other photographer's work from around the world as well. You can find their information under "Read More" in the "About the Art" section.
2sweet4words Designs also boasts one of the largest galaxy / space / universe print collections on Society6.
Check out my shop GalaxyDreams, for more galaxy and space prints: https://society6.com/me101
Lots of Color! Lots of Styles! Lots of variety! Lots of coordinates! 2sweet4wordsDesigns has a plethora of original designs and prints.
Check out my spillover design shop SimpleChic for more coordinates and simple designs: https://society6.com/vintageappeal623
Feminine, Masculine, Fun, Flirty, Romantic, Whimsical, Kiddish, Pretty, Beautiful & More! 2sweet4words Designs has the innocent & sweet but also the cool & sexy.
Check out my shop WhimsyRomance&Fun for more! https://society6.com/lilkiddies
Vintage Photos and Antique Works of Art. Find them at my shop PureVintageLove: https://society6.com/purelove
Many Blessings & Happy Shopping!
All pieces copyright 2sweet4wordsDesigns unless otherwise stated.
Read more
2sweet4words Designs's Store
1000+ results
Filter