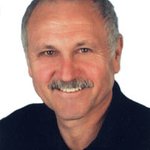 Walter Zettl
By combining my art painting with innovative photography and the digital editing of the works, I have raised my art into new dimensions. This has led to unusual, new imagery. Experience an explosion of feelings and freedom - a "must" for all lovers of art. https://www.facebook.com/profile.php?id=100004811882944 https://www.pinterest.com/walterzettl/ https://plus.google.com/u/0/118418966595643466777/posts Walter Zettl joined Society6 on November 9, 2014
More
By combining my art painting with innovative photography and the digital editing of the works, I have raised my art into new dimensions. This has led to unusual, new imagery. Experience an explosion of feelings and freedom - a "must" for all lovers of art.
https://www.facebook.com/profile.php?id=100004811882944 https://www.pinterest.com/walterzettl/ https://plus.google.com/u/0/118418966595643466777/posts
Walter Zettl joined Society6 on November 9, 2014.