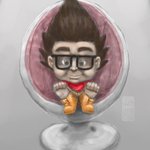 Wizkit
Chow Wai Kit, artist name Wizkit is a freelance illustrator and a full time in-house designers supervisor in a corporate company based in Malaysia. He graduated in Multimedia Computing at Inti International University & Colleges in 2003. In January- February 2014, he attended Imaginism In-House Workshop in Canada, for a month of full immersion workshop in stucture, light & shadow, digital painting and traditional painting with Senior Artists Thierry Lafontaine and the Artist & Founder Bobby Chiu. He is an illustrator that has passion in producing inspiring paintings of concept art, illustrations and new design ideas. Always up to date with designs, illustrations and online trends. Wizkit joined Society6 on December 18, 2014
More
Chow Wai Kit, artist name Wizkit is a freelance illustrator and a full time in-house designers supervisor in a corporate company based in Malaysia.
He graduated in Multimedia Computing at Inti International University & Colleges in 2003.
In January- February 2014, he attended Imaginism In-House Workshop in Canada, for a month of full immersion workshop in stucture, light & shadow, digital painting and traditional painting with Senior Artists Thierry Lafontaine and the Artist & Founder Bobby Chiu.
He is an illustrator that has passion in producing inspiring paintings of concept art, illustrations and new design ideas. Always up to date with designs, illustrations and online trends.
Wizkit joined Society6 on December 18, 2014.