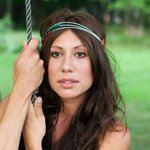 Ysabel Price
Mail + ysabelprice@gmail.com Online Portfolio + www.ysabelprice.carbonmade.com Facebook Page + https://www.facebook.com/ysabelpriceart Twitter + http://twitter.com/#!/ysabelprice
A BIO + Ysabel is a studio artist with a Bachelor of Fine Arts in Sculpture from Kent State University. After graduating in 2004, she co-founded Enthalpy Studios, an art gallery/artist studio/recording studio and worked as a designer for a fashion team in Kent, Ohio. After taking a year sabbatical in California's East Bay, she returned to Ohio and continues to make art. She is currently the Art Director at AlphaMicron, a Liquid Crystal Research and Development company in Kent, Ohio. Ysabel's work has been shown in Los Angeles, San Francisco, and various galleries in Northeast Ohio.
WHAT DRIVES ME TO CREATE + Compulsion, consumption, and competition—the contemporary expression of the human struggle between the limitations of nature, anatomy, landscape, and physics and the lure of limitless expansion, globalization, and technology—this inspires my work. We seek relationship with the natural world even as we experience disconnection, fracturing, and abstraction. We seek to save and protect it, even as we work to control and consume.
Living organisms and the human body are of great interest to me, particularly their biological and physiological responses and adaptations to the synthetic, i.e. hormone replacement therapy, genetically modified foods, pharmaceutical medications, etc. This struggle is often evident in my work for each piece serves as an attempt to construct a new environment or reality - an abstract, biomorphic landscape of sorts.
Invoking movement and life within a macro/micro context is an overall aesthetic I seek to achieve. My process is intuitive and autonomous, yet deliberate and direct. By playing in between the lines of control, I offer the material room to naturally dictate its own existence and place in space – expanding, coinciding, and collapsing. I often find most of my techniques to be sculptural. Through the pouring and layering of mixed materials, a sense of space and depth of field is further emphasized. Organic forms juxtapose structured geometric lines and shapes; paint and resin drip and swell; quickly drawn lines speak to a static current through the composition.
I am interested in the middle ground between the paradoxical: natural and synthetic, order and chaos, growth and constriction, the inner world (emotional) and the outer (logical or physical), the imaginative and the concrete. My desire for balance between these oppositions is evident in my process of making, and it is within this process where the meaning of my work lies. A mythical space is created where material, form, shape, and color converge in a single moment to coexist in a connected, balanced space as one.
Read more
Ysabel Price's Store
Filter