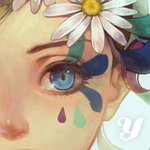 YUKIKO
I started as illustrator, then expanded more variety of art like digital art, blogging, sewing, knitting, crochet, fashion, simple food, 3D and any decoration you can possibly think of. Visit www.yukikotsu.com to see more of my work! Please contact me at kiddyfactory@gmail.com if there's a print you like to purchase that's not listed in the store. Follow me: Blog : www.yukikotsu.blogspot.ca Tumblr : www.yukikotsu.tumblr.com Facebook : yukikoillustration Twitter : kiddyfactory Pinterest : yukiko YUKIKO joined Society6 on January 2, 2016
More
I started as illustrator, then expanded more variety of art like digital art, blogging, sewing, knitting, crochet, fashion, simple food, 3D and any decoration you can possibly think of.
Visit www.yukikotsu.com to see more of my work!
Please contact me at kiddyfactory@gmail.com if there's a print you like to purchase that's not listed in the store.
Follow me:
Blog : www.yukikotsu.blogspot.ca Tumblr : www.yukikotsu.tumblr.com Facebook : yukikoillustration Twitter : kiddyfactory Pinterest : yukiko
YUKIKO joined Society6 on January 2, 2016.