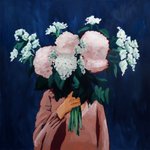 Abbey Merson
Abbey is a full-time painter from Hastings, New Zealand.
Her bold, loose artworks show her love of colour and nature.
'Let's leave the world a more colourful place'
"I create. It's what I do, have always done, and always will do because it's who I am. I paint to make sense of the world around me and my place in the midst of it all."
Abbey is a New Zealand artist and painter whose art is deeply inspired by nature, by people, by the wonderful world we live in, and from the challenges of life itself.
She is continaually exploring her world, through colour, creating vibrant paintings as a result.
Abbey worked as a picture framer for over 15 years, painting in her spare time, until April 2018 when she could no longer put off her dream to paint full time.
She rented a studio space in Hastings and painted every day, creating works large and small and sending them off all over the world.
Now that Abbey is also a Mum, she paints from her home studio.
Abbey currently has two on-going series in production, 'Posy', and her 'Hawkes Bay Spots' series where she paints special places around the bay.
Abbey is also working on landscape or floral commissions, so please contact her if you are interested in a special piece for your home or workplace.
Visit her website for more information, www.abbeymerson.com or follow @abbeymersonpainting on Instagram for new artworks, works in progress and commissions.
#painteveryday #abbeymersonpainting
Read more
Abbey Merson's Store
Filter