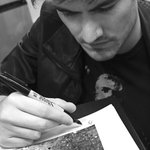 Alex Cherry
Artist & Designer. Creator of iconic images based on music & photography. "Alex Cherry uses a mixture of traditional and digital techniques to create intricate pieces of art with texture and fine lines which result in interesting images with strong atmospheres. He uses skulls and skeletons combined with images of space to give the idea that people are just part of the universe, a small part at that, and that death is also important to that idea." - Charlotte Jones Alex Cherry joined Society6 on June 24, 2011
More
Artist & Designer. Creator of iconic images based on music & photography.
"Alex Cherry uses a mixture of traditional and digital techniques to create intricate pieces of art with texture and fine lines which result in interesting images with strong atmospheres. He uses skulls and skeletons combined with images of space to give the idea that people are just part of the universe, a small part at that, and that death is also important to that idea." - Charlotte Jones
Alex Cherry joined Society6 on June 24, 2011.