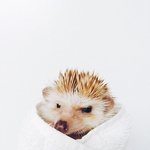 ameliahedgehog
Amelia is a African Pygmy Hedgehog living in Vancouver. With a eye for beauty and a never ending curiosity to explore, Amelia interacts with the world through creating visual art- usually with food or flowers. For more info visit www.sophiahsin.com or send a message to hello@sophiahsin.com Find me elsewhere: https://instagram.com/ameliahedgehog http://ameliahedgehog.tumblr.com https://sophiahsin.wordpress.com/tag/hedgehog https://society6.com/ameliahedgehog ameliahedgehog joined Society6 on March 31, 2015
More
Amelia is a African Pygmy Hedgehog living in Vancouver.
With a eye for beauty and a never ending curiosity to explore, Amelia interacts with the world through creating visual art- usually with food or flowers.
For more info visit www.sophiahsin.com or send a message to hello@sophiahsin.com
Find me elsewhere:
https://instagram.com/ameliahedgehog http://ameliahedgehog.tumblr.com https://sophiahsin.wordpress.com/tag/hedgehog https://society6.com/ameliahedgehog
ameliahedgehog joined Society6 on March 31, 2015.
Popular by ameliahedgehog
26 results
Filter