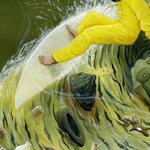 Brian DeYoung Illustration
Hi, I'm Brian! I grew up just outside of Chicago, playing outside, hating school and getting my sketchbooks taken away in order to educate me on how important calculus is to the strength of my character. I left Chicago after graduating and went to the Savannah College of Art and Design in order to learn how to best contribute to the world, with a BFA in Illustration. So here I am, painting for you. Take a look around, everything on here is made by me. Illustration has been my passion for a very long time, particularly using traditional media to create my work, along with using images to create a story and message. I do my best to create poignant, animated and technically impressive work, that's often humorous while attempting to make my audience think. To see more of my paintings, process work and sketches check out my other pages! I'm friendly, so don't hesitate to contact me with any questions or comments. Tumblr: http://thebriandeyoung.tumblr.com/ Facebook: https://www.facebook.com/BrianDeYoungIllustration Behance: https://www.behance.net/briandeyoung Instagram: briandeyoungillustration Portfolio: briandeyoungarts.com To get ahold of me: P: 224 420 0519 E: thebriandeyoung@gmail.com Brian DeYoung Illustration joined Society6 on August 31, 2012
More
Hi, I'm Brian! I grew up just outside of Chicago, playing outside, hating school and getting my sketchbooks taken away in order to educate me on how important calculus is to the strength of my character. I left Chicago after graduating and went to the Savannah College of Art and Design in order to learn how to best contribute to the world, with a BFA in Illustration. So here I am, painting for you. Take a look around, everything on here is made by me. Illustration has been my passion for a very long time, particularly using traditional media to create my work, along with using images to create a story and message. I do my best to create poignant, animated and technically impressive work, that's often humorous while attempting to make my audience think. To see more of my paintings, process work and sketches check out my other pages! I'm friendly, so don't hesitate to contact me with any questions or comments.
Tumblr: http://thebriandeyoung.tumblr.com/ Facebook: https://www.facebook.com/BrianDeYoungIllustration Behance: https://www.behance.net/briandeyoung Instagram: briandeyoungillustration Portfolio: briandeyoungarts.com
To get ahold of me: P: 224 420 0519 E: thebriandeyoung@gmail.com
Brian DeYoung Illustration joined Society6 on August 31, 2012.