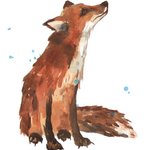 eastwitching
I am a Welsh freelance artist who loves to capture and express the endless expressions, moods and antics of animals in watercolour! To learn watercolor via my free YOUTUBE channel - click here! https://www.youtube.com/channel/UCMEHkuWUQyY0VT5iUEiLqZg To watch my free watercolour tutorials on Youtube come to - https://www.youtube.com/user/AlisonFennell To read about my art process and more please come to my blog - https://eastwitching.com/ eastwitching joined Society6 on March 1, 2012
More
I am a Welsh freelance artist who loves to capture and express the endless expressions, moods and antics of animals in watercolour!
To learn watercolor via my free YOUTUBE channel - click here! https://www.youtube.com/channel/UCMEHkuWUQyY0VT5iUEiLqZg
To watch my free watercolour tutorials on Youtube come to - https://www.youtube.com/user/AlisonFennell
To read about my art process and more please come to my blog -
https://eastwitching.com/
eastwitching joined Society6 on March 1, 2012.