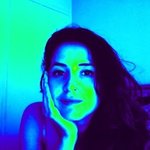 Ginais - Gina San Andres
Hi, I'm Ginais. I live in Guayaquil, Ecuador and i like to paint love stories, and what this represents, like madness, sadness, obsession, happiness... Im an autodidact artist from the world. I'd love to hear from you. To know more about me, visit my blog: ginasanandres.blogspot.com Ginais - Gina San Andres joined Society6 on July 9, 2013
More
Hi, I'm Ginais. I live in Guayaquil, Ecuador and i like to paint love stories, and what this represents, like madness, sadness, obsession, happiness... Im an autodidact artist from the world.
I'd love to hear from you. To know more about me, visit my blog:
ginasanandres.blogspot.com
Ginais - Gina San Andres joined Society6 on July 9, 2013.
Ginais - Gina San Andres's Store
24 results
Filter