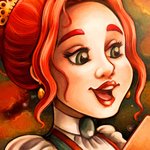 Heather Hitchman
SEE MORE OF MY WORK AND SPECIAL EDITION PRINTS ON MY WEBSITE http://www.heatherhitchman.com I started my society 6 shop when I was searching for an online store front to sell my prints and gift items. I have become known for my painterly eclectic digital paint style. I love drawing animals, people, fantasy, macabre, and anything old England! My goal for my shop is to continue servicing society6 customers with high quality prints, trinkets and most of all "Good Olde Fashioned Art!" Heather Hitchman joined Society6 on February 14, 2014
More
SEE MORE OF MY WORK AND SPECIAL EDITION PRINTS ON MY WEBSITE http://www.heatherhitchman.com
I started my society 6 shop when I was searching for an online store front to sell my prints and gift items.
I have become known for my painterly eclectic digital paint style. I love drawing animals, people, fantasy, macabre, and anything old England! My goal for my shop is to continue servicing society6 customers with high quality prints, trinkets and most of all "Good Olde Fashioned Art!"
Heather Hitchman joined Society6 on February 14, 2014.