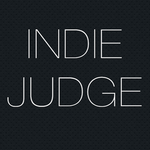 IndieJudge.com
IndieJudge.com is a online film magazine. We review and interpret films, some that are great, some not so great. We love art too and this store is a collection of the network of artists that we've made along the way. We hope you like the stuff :) IndieJudge.com joined Society6 on November 25, 2013
More
IndieJudge.com is a online film magazine. We review and interpret films, some that are great, some not so great. We love art too and this store is a collection of the network of artists that we've made along the way.
We hope you like the stuff :)
IndieJudge.com joined Society6 on November 25, 2013.