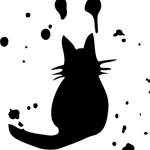 Inky Cat Studio
Hello! I'm Stephanie from Inky Cat Studio. I'm a painter and maker from Australia. I usually paint in watercolour, but will occasionally do acrylics on canvas as well. My work is influenced by pen & ink and oriental styles. Instagram: inkycatstudio :) Portfolio: inkycatstudio.com Inky Cat Studio joined Society6 on May 12, 2015
More
Hello! I'm Stephanie from Inky Cat Studio. I'm a painter and maker from Australia. I usually paint in watercolour, but will occasionally do acrylics on canvas as well. My work is influenced by pen & ink and oriental styles.
Instagram: inkycatstudio :) Portfolio: inkycatstudio.com
Inky Cat Studio joined Society6 on May 12, 2015.
Inky Cat Studio 's Store
48 results
Filter