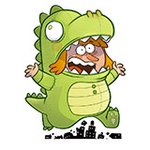 Anna-Maria Jung
www.annamariajung.com
Since Anna-Maria Jung was born in 1984, fantastic stories have been a significant part of her life. Being inspired by movies, cartoons, comics and other narrative media, she has always wanted to tell her very own stories. At the age of 18 she published her first graphic novel "Urbanity" in Austria, fulfilling her dream of becoming a visual storyteller.
At the university of Applied Sciences in Salzburg from 2003 - 2007 she studied "Multi Media Arts" with a focus on traditional animation. Since then she has produced various comics and illustrations for comic anthologies in Germany and Austria, published two of her own comics and worked on four animated shorts, one of them in Scotland and one in New York City in cooperation with independent animator Bill Plympton.
After living in Graz, Anna-Maria Jung worked as a freelance illustrator for various companies, such as the University of Graz, the State Museum, weekly newspapers and a children's book. She has also taught comic workshops at the University of Applied Arts in Vienna and won the "Next Comic" competition in Linz for professionals. In 2009 she received the Fulbright scholarship and started studying a Master program in Illustration at FIT (Fashion Institute of Technology) in New York and graduated in 2011.
She is currently living and working in New York City, producing illustrations for the editorial market, children's books, graphic novels and apparel.
Read more
Anna Maria Jung's Store
Filter