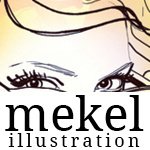 mekel
Mekel is Kelly Coates, an Illustrator from Perth, Western Australia.
Growing up I always loved to draw. Thinking career choices when I was 9, I either wanted to own a 'Mr Whippy' ice cream van or be a fashion designer. I quickly realised I hated sewing, and really just wanted to draw the girls in pretty dresses. I studied Graphic Design and Multimedia, and working now as a professional designer, am lucky enough to use illustration in my work as often as I can.
My work is heavily influenced by fashion. I sketch girls. That's it really. Pretty ones with flowing hair and fabric, and add a splash of watercolour. I like to use a runny black gel pen, or my trusty pacer pencil. Inspiration can strike anywhere so I find I can be quickly creative with my sketch pad, however love to get on the computer too!
You can view and purchase my work through http://www.mekel.net or keep up to date at http://www.facebook.com/MekelIllustration
Read more