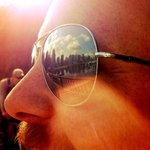 Morgan Ralston
Morgan Ralston was born into an artistic family in Toronto, Ontario. His father was an artist, and his grandfather studied under A.J. Casson, of the Group of Seven. Browse his digital abstract design collection at: http://society6.com/DoodL CONTACT: Email: morganralston@hotmail.com Website: http://www.morganralston.ca Facebook: https://www.facebook.com/TheArtworkOfMorganRalston Twitter: https://twitter.com/MorganRalston Morgan Ralston joined Society6 on August 31, 2012
More
Morgan Ralston was born into an artistic family in Toronto, Ontario. His father was an artist, and his grandfather studied under A.J. Casson, of the Group of Seven.
Browse his digital abstract design collection at: http://society6.com/DoodL
CONTACT:
Email: morganralston@hotmail.com Website: http://www.morganralston.ca Facebook: https://www.facebook.com/TheArtworkOfMorganRalston Twitter: https://twitter.com/MorganRalston
Morgan Ralston joined Society6 on August 31, 2012.