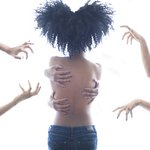 NDAVISSTUDIO
Fine art photographer and artist uses her imagination to create compelling and thought-provoking self-portraits to celebrate the beauty, emotion and struggle of the human existence. She strives to challenge stereotypes affecting women of color and putting her personal thoughts and life experiences in pictures. In addition, Nastassia conducts photography workshops, specifically in light painting techniques, for inner city youth as a vehicle to bolster self-esteem. Nastassia Davis has a bachelor's in Fine Art Studio from Montclair State University. For more info, visit my official website - http://ndavisphoto.com NDAVISSTUDIO joined Society6 on July 16, 2011
More
Fine art photographer and artist uses her imagination to create compelling and thought-provoking self-portraits to celebrate the beauty, emotion and struggle of the human existence. She strives to challenge stereotypes affecting women of color and putting her personal thoughts and life experiences in pictures. In addition, Nastassia conducts photography workshops, specifically in light painting techniques, for inner city youth as a vehicle to bolster self-esteem.
Nastassia Davis has a bachelor's in Fine Art Studio from Montclair State University.
For more info, visit my official website - http://ndavisphoto.com
NDAVISSTUDIO joined Society6 on July 16, 2011.
NDAVISSTUDIO's Store
7 results
Filter