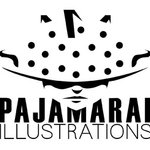 Pajamarai Illustrations
The Last Pajamarai... Nick Velardi is a freelance illustrator and graphic designer born and raised in the Philadelphia area. He specializes in both traditional and digital art and cartooning, and makes a mean sandwich. He recently graduated from the Pennsylvania College of Art and Design where he served two terms as the founding president of the school chapter of The Society of Illustrators . Although Nick has the chiseled features and mechanical skills of an irresistible and fully grown man, he proudly retains the imagination and wonder of a boy who pretends to be a great warrior fighting imaginary monsters that live in his closet... a pajamarai. When he isn't doodling or painting he can be found writing songs, seeking adventure, and battling closet monsters. Pajamarai Illustrations joined Society6 on December 29, 2013
More
The Last Pajamarai...
Nick Velardi is a freelance illustrator and graphic designer born and raised in the Philadelphia area. He specializes in both traditional and digital art and cartooning, and makes a mean sandwich. He recently graduated from the Pennsylvania College of Art and Design where he served two terms as the founding president of the school chapter of The Society of Illustrators .
Although Nick has the chiseled features and mechanical skills of an irresistible and fully grown man, he proudly retains the imagination and wonder of a boy who pretends to be a great warrior fighting imaginary monsters that live in his closet... a pajamarai.
When he isn't doodling or painting he can be found writing songs, seeking adventure, and battling closet monsters.
Pajamarai Illustrations joined Society6 on December 29, 2013.