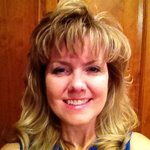 One Artsy Momma
Welcome to my art gallery! I'm a self-taught artist. I love creating my art digitally, using many forms of mediums. My main subjects are wildlife, nature, and abstracts. I have found my passion and I'm so grateful to be able to share my creations with the world. You can also find One Artsy Momma merchandise at: http://www.zazzle.com/OneArtsyMomma?rf=238738076502705312 http://www.printsonwood.com/artists/oneartsymomma Hope you enjoy what you see. Thanks for visiting. Wishing you peace and love, always! ;~) One Artsy Momma joined Society6 on August 28, 2013
More
Welcome to my art gallery!
I'm a self-taught artist. I love creating my art digitally, using many forms of mediums. My main subjects are wildlife, nature, and abstracts.
I have found my passion and I'm so grateful to be able to share my creations with the world.
You can also find One Artsy Momma merchandise at: http://www.zazzle.com/OneArtsyMomma?rf=238738076502705312 http://www.printsonwood.com/artists/oneartsymomma
Hope you enjoy what you see.
Thanks for visiting. Wishing you peace and love, always! ;~)
One Artsy Momma joined Society6 on August 28, 2013.