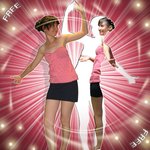 Ornaart
Name: Orna Artzi Graphic designer and illustrator :) Studied 4 years for a graphic design diploma + B.A. in visual communication. So far I have illustrated 2 children books. I love creating new designs and artworks, almost every day! My work is my passion! This is what makes me happy! I enjoy every minute of it and love seeing the results. My Envelop shop: envelop.eu/shop/ornaart My Zazzle shop: zazzle.ca/ornaart My Facebook page: facebook.com/Ornaart My website: ornaart.com Ornaart joined Society6 on September 4, 2011
More
Name: Orna Artzi
Graphic designer and illustrator :) Studied 4 years for a graphic design diploma + B.A. in visual communication. So far I have illustrated 2 children books. I love creating new designs and artworks, almost every day! My work is my passion! This is what makes me happy! I enjoy every minute of it and love seeing the results.
My Envelop shop: envelop.eu/shop/ornaart My Zazzle shop: zazzle.ca/ornaart My Facebook page: facebook.com/Ornaart My website: ornaart.com
Ornaart joined Society6 on September 4, 2011.