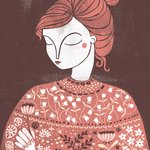 Paula McGloin
Paula McGloin is an illustrator from Sligo, she lives and works in Dublin, Ireland. Her artwork is retro-inspired, whimsical and playful. She particularly loves working with patterns and rich colour palettes. Her work primarily consists of digital-based creations originating from pencil or ink line drawings. Themes for her work consist of imagined characters, animals, nature and everyday events. She loves to create pieces that reflect the positive and charming side of life. She is available for freelance work and commissions. Please feel free to drop a mail and say hello! http://www.rubywave.ie Paula McGloin joined Society6 on August 25, 2010
More
Paula McGloin is an illustrator from Sligo, she lives and works in Dublin, Ireland. Her artwork is retro-inspired, whimsical and playful. She particularly loves working with patterns and rich colour palettes. Her work primarily consists of digital-based creations originating from pencil or ink line drawings. Themes for her work consist of imagined characters, animals, nature and everyday events. She loves to create pieces that reflect the positive and charming side of life.
She is available for freelance work and commissions. Please feel free to drop a mail and say hello!
http://www.rubywave.ie
Paula McGloin joined Society6 on August 25, 2010.