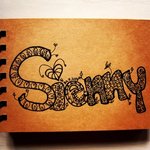 SiennyLovesDrawing
Since young, I love to draw. But don't know since when I stopped drawing for years. Recently I start to draw again and would like to share my drawing passion in my blog http://www.siennylovesdrawing.wordpress.com I also love photography. I wish in near future, I am able to own a dessert cafe with my drawing & photography passion as decoration. Everyone that visit my cafe can enjoy dessert and drawing in their own way to relax : ) Do feel free to contact me via email siennylovesdrawing@outlook.com for commission/ personalisation handrawn artwork. I can personalise my handrawn art according to your requirement. https://www.talenthouse.com/siennylovesdrawing https://instagram.com/siennylovesdrawing https://www.pinterest.com/siennylovesdraw/ https://www.facebook.com/pages/Siennylovesdrawing/631812230286702?ref=hl SiennyLovesDrawing joined Society6 on May 16, 2015
More
Since young, I love to draw. But don't know since when I stopped drawing for years. Recently I start to draw again and would like to share my drawing passion in my blog http://www.siennylovesdrawing.wordpress.com
I also love photography.
I wish in near future, I am able to own a dessert cafe with my drawing & photography passion as decoration. Everyone that visit my cafe can enjoy dessert and drawing in their own way to relax : )
Do feel free to contact me via email siennylovesdrawing@outlook.com for commission/ personalisation handrawn artwork. I can personalise my handrawn art according to your requirement.
https://www.talenthouse.com/siennylovesdrawing
https://instagram.com/siennylovesdrawing
https://www.pinterest.com/siennylovesdraw/
https://www.facebook.com/pages/Siennylovesdrawing/631812230286702?ref=hl
SiennyLovesDrawing joined Society6 on May 16, 2015.