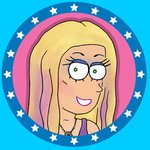 SonyaSaturday
I'm a Los Angeles-based cartoonist. My work focuses on love, sex, gender and politics, all with more than a dash of adult humor. My books include: "The 2016 Republican Presidential Candidates Coloring and Activity Books"; "A Ninja Dinosaur Christmas!!!"; "Death's Door"; "Why Do You Cry When I'm On Top?" Website: http://sonyasaturday.com Instagram: @sonyasaturday Facebook: https://www.facebook.com/sonyasaturdayart SonyaSaturday joined Society6 on May 23, 2016
More
I'm a Los Angeles-based cartoonist. My work focuses on love, sex, gender and politics, all with more than a dash of adult humor.
My books include: "The 2016 Republican Presidential Candidates Coloring and Activity Books"; "A Ninja Dinosaur Christmas!!!"; "Death's Door"; "Why Do You Cry When I'm On Top?"
Website: http://sonyasaturday.com Instagram: @sonyasaturday Facebook: https://www.facebook.com/sonyasaturdayart
SonyaSaturday joined Society6 on May 23, 2016.