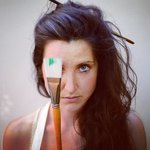 Tilla Illustration
Ciao! My name is Maria Cristina Boero Baroncelli or, if you prefer, just Tilla: this is the nickname I gave to myself when i was a child, since I couldn´t pronounce my name in a proper way. I'm an italian illustrator, graduated at the Academy of Fine Art in Turin. Till the age of 27 I lived in a magic place, Barolo, the Italian cradle of good food and wine, with my dogs and Nicolai, my special horse. Today I live in Brooklyn Tilla Illustration joined Society6 on February 27, 2015
More
Ciao! My name is Maria Cristina Boero Baroncelli or, if you prefer, just Tilla: this is the nickname I gave to myself when i was a child, since I couldn´t pronounce my name in a proper way. I'm an italian illustrator, graduated at the Academy of Fine Art in Turin. Till the age of 27 I lived in a magic place, Barolo, the Italian cradle of good food and wine, with my dogs and Nicolai, my special horse.
Today I live in Brooklyn
Tilla Illustration joined Society6 on February 27, 2015.