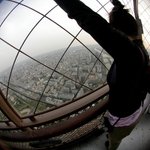 Young Swan Designs
"I travel the world to collect cultural inspiration, patterns in nature and timeless treasures into my camera. Photography makes my life magical." - Deborah Yun
blog: http://youngswandesigns.com twitter: http://twitter.com/youngswandesign facebook: http://facebook.com/youngswandesigns
Once upon a time...
I was walking around Amsterdam exploring the city alone with my camera. For some reason, the city seemed so familiar to me... like I had been here before. I wondered why I felt such familiarity, but I couldn't quite put my finger on it. So I thought and forgot.
A few years later...
It dawned on me. An 'Aha' moment if you will. The reason I felt so at home was because I was doing what I truly love--getting lost exploring the wonders of a place with my camera--completely in my element, visually stimulated by lights and sights, as they unfolded in the present. By playing with my camera, more of myself emerged and I naturally felt more at home.
Just like the young swan in the classic fable of "The Ugly Duckling," life is a journey to find your original true self, no matter how long it takes. When you're not sure what you want to do in life, find stillness-trust your heart-it is a great compass.
My camera is now my stillness… my compass that points the way to treasures I can bring home to share with you… I hope my prints inspire you to dream, explore, travel and grow.
So have a look-see and find that perfect gift for yourself or a loved one.
Thank you for visiting, come again soon :)
xoxo,
deborah yun
My work has been featured in:
F-Stop Magazine ♥ Kiernan Gallery ♥ Lenscratch ♥ Fresno City Hall ♥ Julia Dean Gallery ♥ Emerging Photographers of Los Angeles, Freestyle Gallery ♥ La Foto Gallery ♥
Read more
Young Swan Designs's Store
Filter